Injection Molding
Natur-Tec® BF3002HT is a platform of high-performance, biobased and compostable polymer resin compounds made with modified Ingeo™​. This platform of resin compounds is specifically engineered for applications where high-heat performance and/or dimensional stability are critical such as food service packaging, garment industry packaging, and agricultural clips. Futhermore, this platform offers a fully compostable alternative to polystyrene or polypropylene in applications such as single use cutlery, disposable coffee pods, and other single use food service ware.
High-heat...No Sweat
Natur-Tec® BF3002HT Features
Natur-Tec® BF3002HT is obtained by letting down high-filled masterbatch into IngeoTM performance grade PLA resins to tailor product properties

Natur-Tec® BF3002HT is 100% compostable and meets requirements of ASTM D6400 and EN13432​

Approved for direct food contact and contains no heavy metals

Engineered specifically for high-heat resistance applications such as cutlery and food service packaging

Exceptional in-mold processing, allowing for increased dimensional tolerance

​Increased dimensional stability in annealing processes reduces production scrap

Innovative masterbatching approach maintains molecular weight of the resin compound, thereby improving mechanical strength of finished product.

A total platform solution from a supply chain you can trust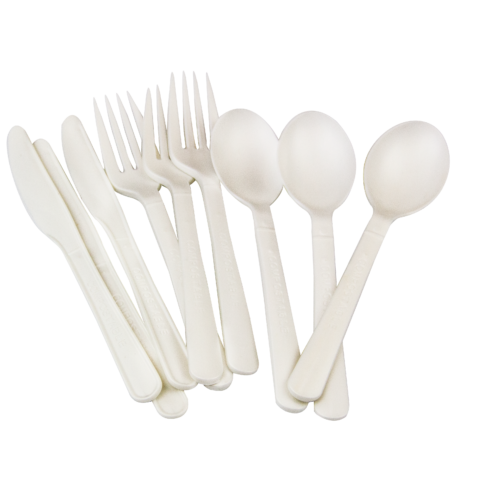 Need more information?
Let's Talk Sustainability
Curious how Natur-Tec® resins can be used to create sustainable solutions to traditional plastics? Please contact our team to learn more and explore the ways we help our clients work towards a more sustainable future!
Natur-Tec® has production and research and development capabilities all over the world with local teams to ensure your success.