Natur-Tec®'s primary research and development lab is located in Circle Pines, Minnesota. Here our engineers use powerful equipment to develop, analyze, and test our formulations, compounds, and finished products.
Our team deploys advanced in-house technology to create innovative, performance compounds, and  a wide array of equipment for product development, quality control, and benchmarking. Our in-house capabilities include but are not limited to the following:
Varian 640-IR & Varian 610-IR  FTIR microscopes and spectrometers
Thermo Fisher LCMS QE Exactive Focus
Thermo Fisher GCMS Trace 1310 + ISQ LT MS
Arizona Computrac Vapro Pro Moisture Analyzer
TA Discovery Thermogravimetric Analyzer
TA Discovery Differential Scanning Calorimeter
26 mm LabTech Twin Screw Extruder with Pelletizer
¾" LabTech Blown Film Extruder
Cascade TEK TVO-Series Vacuum Oven
Natur-Tec® researches and develops biobased and compostable formulations, compounds, and products in the United States, Europe, and Asia. Furthermore, we conceptualize, create, and improve our products based on changing market demands and needs, legislation, and our commitment to providing the highest performing products.
Our team has years of experience working in collaboration with global brand owners to develop and commercialize advanced technology.
Our world-class laboratories use the most modern technology to research and test our compostable and biodegradable biopolymers.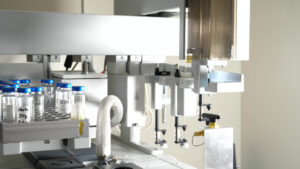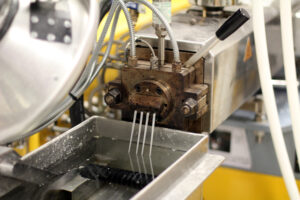 We believe quality and consistency are keys to success. All  our resins and finished products are tested prior to delivery to the client. Moreover, we ensure our products adhere to relevant ASTM and global standards, all formulations are correct and accurate, and product performance meets or exceeds our standards.
Testing Our Products
Our Quality Control team uses advanced tools to test all Natur-Tec® products. Our in-house testing equipment includes (but not limited to) an Instron 5544 Universal Testing Machine, Benz Falling Dart Tester, Digitalized Thwing-Albert Elmendorf Tear Tester, TMI XNR-400 Melt Flow Tester, and tools to test load capacity.
What we test
Film: Tear resistance, impact resistance, elongation, strength, formulation
Cutlery: Compressive extension and rigidity, both in and out of hot water
Resins: Formulation, density, moisture, melt flow index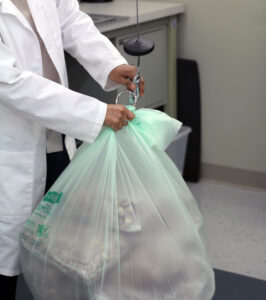 The Natur-Tec® Manufacturing Process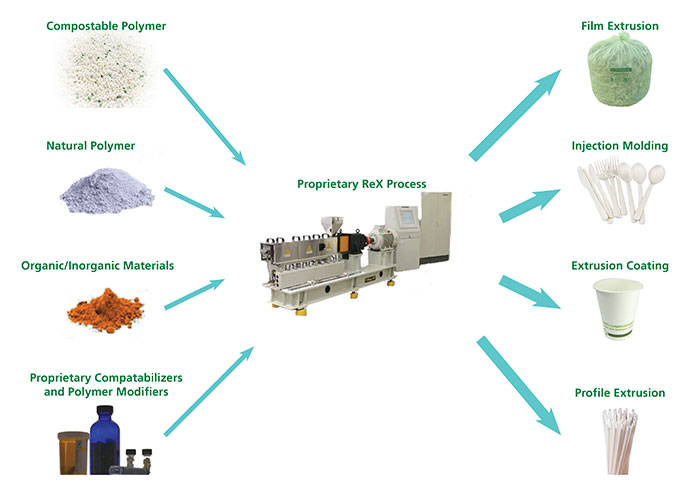 Natur-Tec® compostable biopolymers are produced using NTIC's proprietary ReX Process. In this process, biodegradable polymers, natural polymers, organic, and inorganic materials are reactively blended in the presence of proprietary compatibilizers and polymer modifiers to produce biobased and compostable polymer resin formulations that exhibit unique and stable morphology.
These biopolymer resins are engineered for high performance, ease of processing, reduced cost, and can easily be processed by converters using conventional manufacturing processes and equipment. 
Natur-Tec® biopolymer resins are available in several grades tailored for a variety of applications such as film extrusion, extrusion coating, injection molding, and rigid engineered plastics.
Can't find what you're looking for?
Contact us Today!
We are invested in creating a more sustainable future.
Get in touch with us to see how Natur-Tec® can assist you in reaching your sustainability goals!